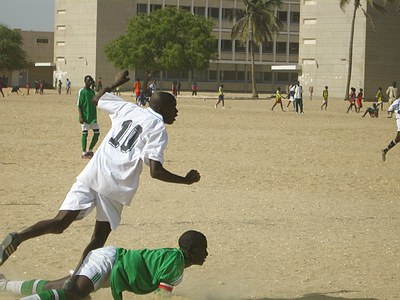 Football match on the school grounds
Although I no longer go out running religiously every day I still get out several times a week no matter where I am. The sight of a blond man out training has provoked different reactions from the locals around the world, and I admit to judging a the degree of enlightenment of populous a little by it. I still remember the blank look of bemusement from Guatemalan villagers swatting by the side of the road, several miles from the nearest town, as I appeared in my shorts out of the highland mist. I disappeared back into it, and then reappeared again minutes later having reached my designated point to double back. In Nicaragua I experienced open hostility, strange as in neighbouring Costa Rica the sight of me running received no more than total indifference. In Ethiopia smiling local kids in flip-flops would slip into a silky smooth action and accompany us, requiring not a little effort to burn them off.
The reaction I got in Senegal fell somewhere in the middle of this. By and large the response to seeing me running was good-natured, though in built-up areas groups of people would sometimes think it funny to point at the foreigner and laugh. This was despite that in St Louis the sight of people out running was far from unusual. Often football or even female basketball teams could be seen out training together. On the beach I would see people punctuating jogging sessions with exercises such as star jumps and press-ups.
The location of my family's house presented a great running route, stepping straight out on to the beach heading along the shore towards the border with Mauritania. The frontier was marked with nothing more than a line of trees, and the first checkpoint was still several miles away, but it was pretty good concept to be able to go for a morning run to the neighbouring country and back.
Street stall selling (smuggled?) food
On occasion I would pass people running in the same direction as me on the way out, usually accompanied by a friendly greeting, only to pass them again on my return, still running but now carrying what looked like heavy bags on their head. Since there were no buildings, we were basically running into the Sahara desert, this struck me as slightly odd so I asked my family about it. The explanation was that they were in fact smuggling merchandise, primarily sugar, across the border to avoid paying the high Senegalese import duties.
I would often get into mock races with kids on the way out. On the way back I overtook one of these again, but this time he was steadying a bag on top of this head as he shuffled along. "You run really well", he generously shouted out with a big smile. "Thanks, you're not going badly yourself for someone with 5 kilos of contraband on your head", I failed to reply. OK, it wasn't gangsters running drugs over the Straits of Gibraltar, warlords taking guns to Sudan or triads smuggling immigrants across the channel in sealed containers, it was children carrying insignificant quantities of sugar across an open border, but it still allowed me to feel like I had earned the respect of their criminal fraternity.