Outside of the school lessons I assisted at a couple of English conversation classes. The first of these was for keen kids at the school, and for students at the accompanying college where they would study for three years between secondary school and university. The idea was for them to practise their English with volunteers. Mr Brown acted as supervisor but was keen that the kids took the lead in organisation, which inevitably resulted in a total shambles. In fact at times it was little more than vehicle for the college boys to flirt with the final year girls at the school and I suspect this was often the prime motivation behind involvement on both sides.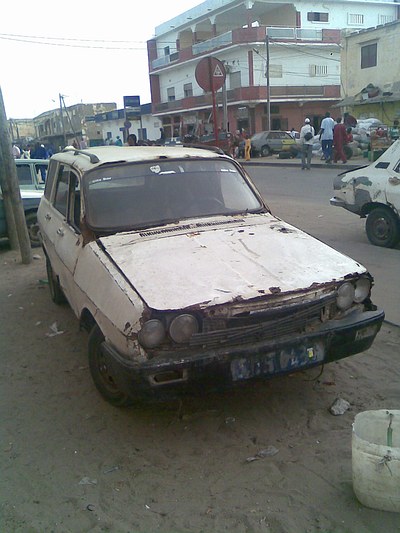 Pimped up ride. This is actually in a better state then many motors in St Louis.
The big project was for the club to prepare an evening of entertainment to which friends, family and volunteers would be invited. About a week before the event I was at rehearsals for a group rendition of the Michael Jackson song "We are the World" and a sketch on the dangers of drugs. I can't stand the sentimentalism of "We are the World" at the best of times, and their enthusiastic but rather painful performance did nothing to convert me.
The sketch about drugs was touchingly naďve. The plot was that a young man had become addicted to dope and was desperate for his next hit. From what I could make out this led him to throw his mother out of the house for not lending him any money. He then visited a dealer, identified by his bling and a lady on each knee. The boy exchanged his trainers for drugs as they were all he had on him. Then followed a genuinely amusing scene in which he and another guy pretended to get drunk and high, which was interrupted when a concerned friend arrived. The friend issued a short homily of the dangers of drugs, and they were instantly and bizarrely converted on the spot. I explained to them how unlikely it would be for someone enjoying a drink to take a sudden vow of abstinence on someone else's request. One of them seemed to agree, but I think this may have triggered a bit of an artistic falling out between the scriptwriters.
They then decided they needed to check out the sound system, prompting the girls to start an impromptu disco and the boys to start arguing, perhaps about the script, but more likely about the girls. They insisted on teaching me a few dance moves, at which point I wondered quite how I'd found myself making a fool of myself in a run down staff room in front of a gaggle of rather amused Senegalese teenage girls.
Unfortunately I wasn't able to attend the actual performance as I was on my way back by then, but I did receive a report from another volunteer, the ever-energetic American Erica. It sounded as chaotic as I expected to be. Kicking off an hour and half later than advertised it was conducted half in English and half in Wolof, leaving both non-English and non-Wolof speakers equally perplexed. Apparently they did dance very well though, but it's unlikely that I provided the inspiration.
I also helped out at an adult English conversation group where a number of the Senegalese members were civil servants. Amusingly they adopted English monikers for the purposes of the lesson, such as Lil Wayne (a rapper, apparently), George W Bush (slightly curious choice given his own difficulties with the language) and The Prodigy (a reference to the band rather than a boast of youthful intelligence, I presume).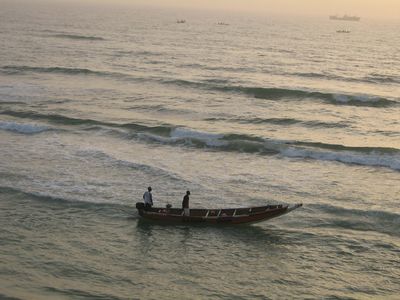 A pirogue setting out to sea
As an educated group with a good grasp of English we were able to have some quite in-depth conversations about Senegalese life. To help things along we read an English language magazine article about the plight of Senegalese people trying to escape poverty by sailing their flimsy pirogues to the Canary Islands, from where they would attempt to enter mainland Europe to work in Spanish vineyards or sell key rings under the Eiffel Tower. The journey is a highly treacherous one, and the article focused on the effect that the death through drowning of young men had on their mothers in the village back home.
We were slightly worried that the topic might offend the locals' sense of national pride, but in fact they were very keen to talk about the economy, the lack of opportunity and to emphasise that the situation was if anything getting worse. Due to lack of work at home, and the Sarkozy government controversially tightening the path to legal migration into France, more young men are now prepared to risk this perilous journey.
Senegal's economy remains largely agricultural, though this is less obvious than other developing nations I've visited. Unlike say Ethiopia or Indonesia, where the land is very clearly being worked, I didn't see a lot of cultivated land while I was there. The areas I passed through were largely scrub or sand. Wherever the agriculture takes place, it's not sufficient to provide the country's food. The staple is rice, but it's only grown in small quantities, the remainer being imported. Consequently the recent worldwide rise in food prices is having a very real effect on Senegalese family economics.
Our English club students were very ready to place the blame with the government, describing with disgust how corrupt they felt they were. They argued that those now in power had been terribly poor themselves while in opposition, and now they had their grip on power the first priority was to line their own pockets. When the government was elected at the start of the century it promised to improve the terrible unemployment situation affecting a lot of the country. Things have deteriorated if anything since then.