Day Four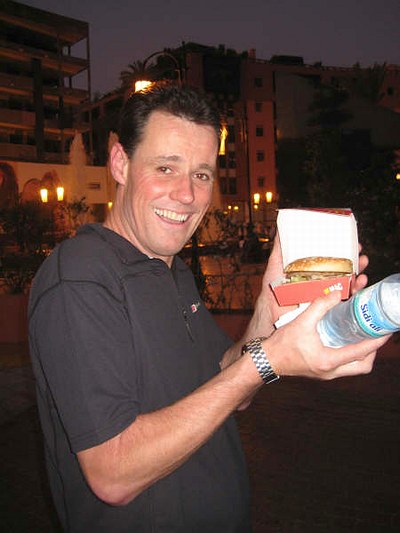 Gordon enjoying the local cuisine.

Next on our route was a pleasant walk from the Tachedirt Valley, up to the pass of TiziíníTamatert, and down into the Mizane Valley. We were rewarded with magnificent sweeping views of mountains dotted with hillside villages. At lunch I admired the agility of a barefoot man climbing 30 feet up a tree to dislodge walnuts, which his son dutifully collected from the ground below.

We continued to the village of Arroumd, after which most of the group elected to take a hammam, a traditional steam bath. We set forth through the village, dependent on Moustapha to lead us uphill through the maze of narrow, cramped streets. When we arrived we were greeted by a scrawny man in charge of the bath, but we would learn of his strength soon enough.

Entering into divided chambers of variable temperature, to begin with we sat in the warmest. Our host lashed us with waves of hot water, and then invited us to wash ourselves with a slimy Argan soap. After a rinse we were given a scrub down, the man using a rough hand cloth to rub away top layers of skin as if he were scouring the burned remains from the bottom of a frying pan.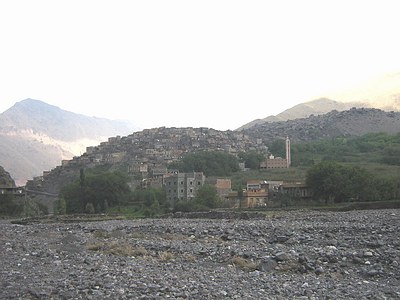 The village, with the hammam hidden somewhere at the top.

Then came the massage. The word conjures up a relaxing image, your muscles being soothed through gentle, caring strokes. This, on the other hand, was little short of violence. The masseurís fragile frame belied a hidden power that he used to contort our arms and legs to painful limits. With varying degrees of desperation each of us begged for him to stop at our point of maximum inflection.

The routine finished with a further soaking, this time with cold water, which left me invigorated for the challenges to come.