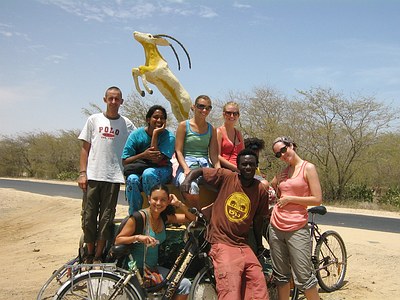 Some of the volunteers on a trip to a park outside St Louis
My trip to Senegal was organised through an organisation called Projects Abroad; they arranged the family accommodation and work at the school. They organise placements in various locations worldwide and are largely a pretty slick outfit. They had an office in town, predominantly run by local staff, which did a very good job of looking after volunteers.
The other volunteers came from a mix of nationalities and backgrounds, but their number was dominated by English teenagers on their gap year before university. I was universally impressed with the maturity with which they conducted themselves in an alien environment, at an age that I was barely able to look after myself in my home town, let alone in a third world country.
The regular Projects Abroad weekly social event was a pub quiz, from which two incidents stick in my mind. The first was the frankly criminal denial of my rightful haul of points for accurately remembering all 12 London tube lines off the top of my head, including the fringe East London line that hasn't even been in service for a couple of years. Another team copied their answers straight off a map, included the very un-tube like Dockland Light Railway, and were rewarded with full marks. An outrageous decision that brought forth an unrestrained blue-faced rant from me.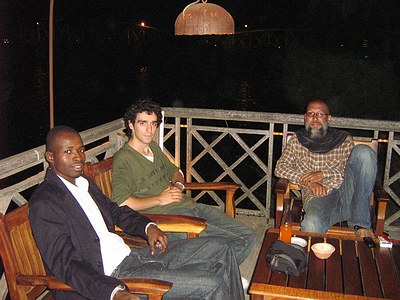 Volunteers Mark and Aman, with local worker Banda, at a riverside bar
However embarrassing a spectacle that was, it was nothing compared to the "kangaroo hop". In an Australian themed night, between deciphering Aussie colloquialisms and tasteful re-enactments of Steve Irwin's death, came a physical challenge. The "kangaroo hop" was essentially a standing long-jump but with a weighted rucksack attached to your front. I was already feeling a little sensitive about being in my mid-thirties having named Clive James as an example of an Australian TV celebrity, drawing blank looks from an audience to whom his ubiquitous presence in the eighties meant nothing. Thus I was anxious to prove that my more advanced years had done nothing to blunt my physical prowess. In an attempt to match the effort of the previous jumper, eighteen-year-old Mark, I tried to launch myself and the rucksack in an ambitious trajectory. I succeeded only in making my take-off foot slip, pitching myself forward, which with the momentum of the rucksack brought me crashing to the ground on my front. At that point I discovered what had been planted in the rucksack to weigh down the "pouch", a couple of large bottles of drinking water. My clumsy fall forced the tops off, and so I found myself lying on the floor of a Senegalese bar in a gathering pool of water and damp clothes, watched largely by a crowd of recent school-levers, my last shred of dignity now long departed.
Learning the result of the quiz.
With the mild exception of an inappropriately boisterous drinking game in a tranquil bar, the volunteers conducted themselves with the greatest respect towards their hosts. The only anecdote I heard of a volunteer failing to act with cultural sensitivity was the tale of a celebratory treasure hunt around the city the year before. One item to be collected was a photo of someone mooning outside the city hall. At home this would be regarded as the sort of template student behaviour that goes with stealing traffic cones, but the Senegalese authorities took a rather dimmer view. A volunteer was apprehended and spent a month in St Louis prison for what was viewed as an act of disrespect. Apparently the photographer, who got away with a single night in the cells, demonstrated a rather charming misjudgement of the situation in showing the arresting police officers the incriminating photos. At the time the very impressive local Projects Abroad coordinator Claire had just started. Her first job in the role was to telephone the felon's parents to inform them that their son was residing in an African prison for a public display of his criminally offensive English bottom.