Day Three
In the morning we made our way up the rocky ascent of nearby Jebel Oukaimeden, the summit being crowned with the top of a ski lift. From here there were sweeping views of the surrounding Atlas range, including our goal of Jebel Toubkal.

There are ambitious plans for the area. Middle Eastern money is to finance the introduction of an artificial ski slope, providing further year-round employment for the area. Along with the valley road under construction this should provide a much-needed boost to the local economy. Despite the proximity to Marrakech, there is a gulf between the standard of living there and that in the rural hinterland.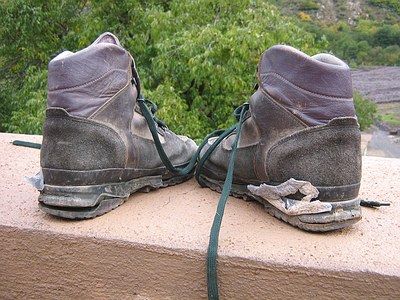 Boots not made for walking.

I managed to quite unintentionally add a layer of bumbling incompetence to my assumed persona. At the peak of Jebel Oukaimeden I proudly claimed that my walking boots were of a 15-year-old vintage. After descending through a scree slope this claim was looking both credible and foolish as the bottom of the boots started to peel away. Before long the soles came close to separating completely and some sort of repair was required. Moustapha and Hassan came to the rescue by neatly tying bandages round the boots to form a sort of exoskeleton that rather improbably held them together for the remainder of the day.

In the afternoon we descended to a new hotel in the village of Tachedirt. Curious local men, women and children greeted us with perplexed looks at my bandaged boots.

I was able to size up the rest of the party.

Gordon was the joker in the pack. Always ready to be the centre of attention, his chirpy South London manner constantly reduced the group to stitches of laughter. Something was amiss though; no grown man could really have that sort of enthusiasm for wet-wipes.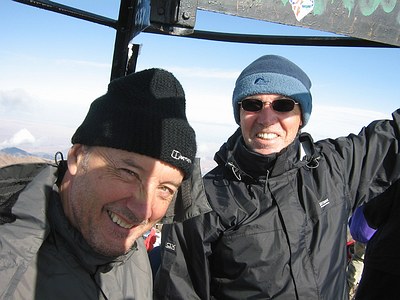 Peter and Bob.

Bob and Peter made a slick pair. As headmasters and sports club administrators they were both pillars of the local community, whilst their sprightly conversation was an agile trade of knowledge and wit. Bob and I shared a few running friends. While I had my suspicions about the identity of others in the group, at least I could be sure that these guys were who they said they were.

Dorien was a Dutch radiologist, or so it undoubtedly said on her passport. Her face looked familiar to me, but right then I couldn't say why.