Day Seven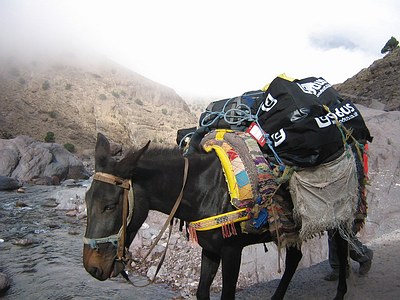 Our tired group took a short stroll down to the village of Imlil where we connected with our transport home. Our return journey to Marrakech was punctuated by a visit to a women's cooperative where Argan products were made and sold. I was taunted by the high prices the oils, creams and soap commanded; everywhere I looked I was teased by the riches that the secret could bring.

Katie and Sasha spent freely. I reasoned they had been as unsuccessful as I had in tracking the secret source, and had thus resorted to purchasing jasmine scented oil for their bosses to analyse and attempt to copy.

On returning to Marrakech some of us visited the Palaces of El Badi and Bahia. Omar and Hasan were up to something but I wasn't sure quite what. On the face of it they pulled off some appalling deals. One paid twice what he could have done in the neighbouring shop for a chess set; the other bought a "decorative" tagine, apparently as useful in the kitchen as the proverbial chocolate teapot. However, together with getting lost on the way to the palaces, this looked to me like they were trying a bit too hard to look like they didn't know what they were doing.

Graham and Wendy were the opposite, quickly clinching a string of great deals on local items. This only added weight to my theory that they had learned when to stick and when to twist at the casino table.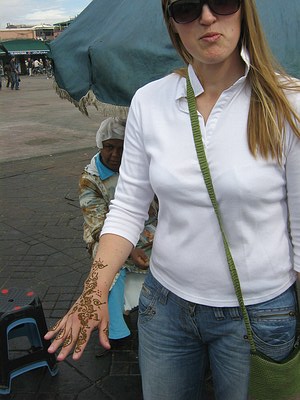 Rachel and henna.

Rachel had henna painted across her arm in the square, and seemed particularly keen to leave the drying ink long enough to ensure it wouldn't wash away easily. Was the henna pattern some sort of code relating to the Argan tree that she would transport back to whoever she was working for? I was certainly worried that it was, but not quite enough to justify paying someone to make sure she didn't leave Morocco with the limb still attached.

In the evening most of us dined in a splendid rooftop restaurant. Course after course arrived with more food than we could possibly consume, including an interesting sugar topped starter and particularly succulent cuts of lamb. It was a fine way to end the trip, even if I had been thwarted in my goal.