Day Five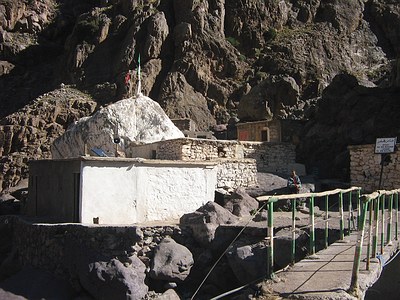 Shrine of Sidi Chamarouch.

The next day, with our legs strangely rejuvenated by the previous night's distortions, we set off on the long steady climb to a refuge that nestled below the final route to the summit. On the way we met a few Spaniards who would be running the route the next day as part of a race to the top and back. With the path sound under foot and not too steep I felt something of an urge to join them.

We passed the shrine of Sidi Chamarouch, tomb of a local marabout and a place of pilgrimage for many Moroccans. As only Muslims were allowed to cross the bridge to gain access we waited as Ijaz paid a visit. I wondered if that was it; in the confines of the shrine had he learned the secret of the Argan tree away from the rest of the group? If so there was little I could do.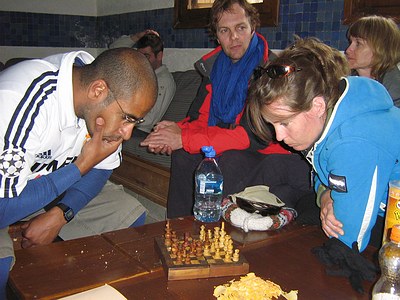 Dorien and Hasan play chess.

We reached a crowded refuge where numerous international groups sat marking time before they were to make their ascent the next morning. Hasan challenged Dorien to a chess match and she accepted. Although I'm sure she enjoyed the irony of the situation, it was this that gave her away. Now I remembered why her face looked familiar. Sure the name and the hair had changed, but she couldn't hide those eyes. I remember seeing them on the front of a chess journal a decade earlier, but this time under her real name of Anzhelika Pozdnyakova, the Russian chess prodigy who mysteriously disappeared off the scene. Of course, Dorien tried to hide her past and threw the match, but pretending to have forgotten the "no castling through check" rule was going too far. So it was clear. The Russian oligarchs considered pursuit of the Argan tree secret like a game of chess, and had sent the best player they could find.