Flemish failure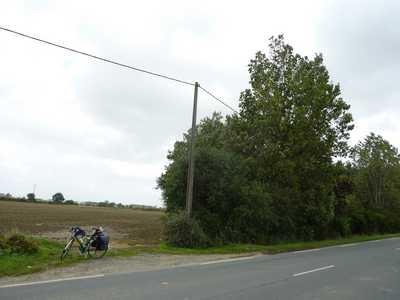 Mon 12th Sep 2011
Day 2
Start: Littlebourne, England
End: Poperinge, Belgium
Distance today: 85k
Distance so far: 215km
Didn't make it to Ypres. I knew things would get hard, but didn't realise it would be so soon.
The ride to Dover was horrible. A strong wind was gusting wildly against me most of the way, bringing with it constant if not heavy rain. Not only was progress slow due to the wind and undulations, but navigation was pretty tricky too. The wind made my map holder flap like a crisp packet, and even when I could read it the map wasn't really up to the job. In the UK I tend to navigate by torn out pages of an old road atlas. It normally works quite well outside of cities, offering an appropriate amount of detail without being too bulky. However it does rely on village sign posts matching up with the map and that didn't appear to be the case today. Admittedly a self-inflicted instance of getting left and right mixed up didn't help. My back-up is to use the gps on my phone, but with the rain I was reluctant to get it out much, even in its water-resistant jacket. Upshot was that progress was very slow and I was sure I would miss the boat, but the long downhill into Dover helped recover time. Over all a journey I expected to take an hour and a quarter took two hours.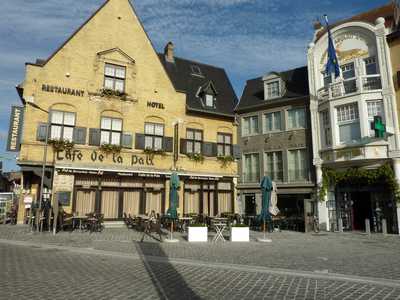 Hotel I took refuge in.
The ferry was about an hour and a quarter late; then first thing I did on disembarking was to work out where in Dunkirk we'd actually landed, it didn't occur to me to check before. Predictably it was the wrong side of town for where I was going.
Then I hit the wind. It was every bit as strong as in England, and to begin with right in my face. No hills here, but all this meant was the wind was unrelenting. I crawled along taking a serious buffeting, leaning at a greatly exaggerated angle just to keep straight in a cross-wind.
Navigation also proved difficult. I got to a junction with two alternative road numberings, neither of which matched my map. The gps on my phone only seemed to confuse matters further. The sense of disorientation wasn't helped by the similarity at first glance between Brouckerque and Bourbourg, almost setting off into the wind to the wrong one. I abandoned looking at the road layout altogether and navigated town to town, easy enough as the sign posting in this respect seems quite good.
After a dispiriting hour or more, with intermittent rain also making things worse, I turned east and started to benefit from the wind instead of fight it. Things improved but I was clearly worn down by my earlier efforts and felt quite weak for a while.
As a reminder of the history of this part of the world I passed a British memorial by the side of the road. It commemorates soldiers massacred in a barn nearby in May '40. I had to overshoot slightly and loop back to avoid stopping directly next to a gent who had chosen it as a convenient spot to stop his car and take a leak, only just a respectable distance from the memorial itself.
At some point I crossed the border from France to Belgium, if there was a sign I missed it. First thing I was aware of was a village that was smarter than the others I'd been through, with a distinctly Flemish square, then I noticed the car plates before checking on the map. Cycle paths also appeared, though they don't amount to more than a poorly maintained strip right next to the road. They were being made use of though. I didn't see a single cyclist in France, there were all sorts in Belgium. A large group of school kids gave me an encouraging shout, and I spotted a group of a dozen elderly ladies in a line, all on the same type of bike and in matching fluorescent tops.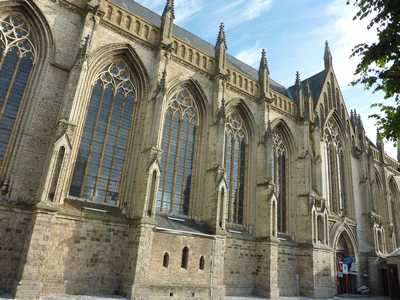 Church in Poperinge.
I'd hoped to get going from Dunkirk relatively early so that I wouldn't have to rush to Ypres unaware as to whether the campsite was still open, the exact situation I now found myself in. I decided to give up on Ypres and stop instead at Poperinge some ten kilometres before. This appeared to have a campsite which I duly navigated to, only to discover it was a motorhome showroom. I was rather broken at this point and decided just to find a room. So I've already completely blown the accommodation budget by staying in a rather nice hotel. I'm reasoning that the circumstances are a bit unusual, hurricane Katia won't always be blowing and I'll usually be able to control the time I start cycling, but I certainly can't get used to it. Camping might not actually have been a great idea in the strong wind though, I don't really want to test my tent to destruction right away.
I'm going to abandon Ypres altogether, I can visit any time, and instead head to Tournai tomorrow which will actually put me a day ahead of schedule. Assuming I get there.