Trying Trier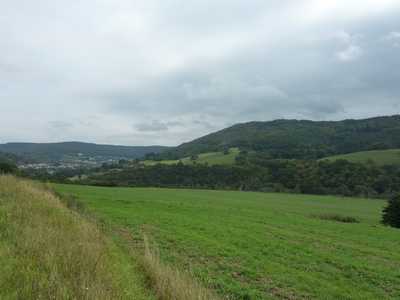 Sat 17th Sep 2011
Day 7
Start: Vianden, Luxembourg
End: Trier, Germany
Distance today: 55k
Distance so far: 650k
A day I'm not sure I made the most of. Spent the morning strolling round Vianden. It is very pretty. The castle didn't open that early so I only saw it from the outside. Turns out it was in ruins until the '70s, since which they have performed an impressive piece of restoration. The town's other claim to fame is Victor Hugo stayed for about 10 minutes and they've made the most of it.
I set off not terribly early, but deliberately for once. I crossed the border to Germany immediately, then followed it down the river Sauer, a very nice ride and easy, just what I needed after yesterday. I then took a shortcut towards Trier so I'd arrive in the town close to the campsite. It may have saved distance but it probably cost time, it was a route full of brutal undulations.
The final descent was dramatic and could have been more so. My gears stopped changing and I looked down to see a cycle top I'd been drying on the back of the bike had become tangled in the rear gears. I was lucky it didn't cause the wheel to seize, it could have been very nasty. As I fixed the problem the rims of the rear wheel were still hot to touch from all the breaking. The top was fine, if a bit oily. Will be wearing it tomorrow.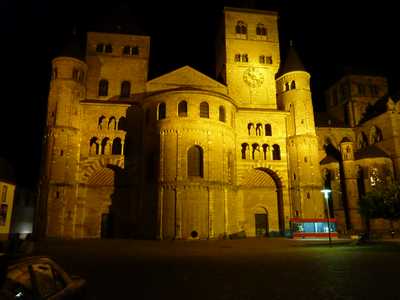 Trier cathedral.
Trier dates back to Roman times and has plenty to take in, including a very imposing cathedral. Unfortunately I've not actually seen a great deal, I was more preoccupied with finding clothes pegs and a new map. This being Germany nothing will be open tomorrow as it's Sunday so I had to get on with it. Bit embarrassed by the clothes pegs, girlfriend Claire pointed out this gap in my inventory as she happily reminded me. I now have 36 of them when I need about 6.
Struggling a bit physically. My legs feel like they've taken a solid pounding from the undulations, just walking up a flight of steps is tricky at the minute.
Tomorrow might be difficult. I'm out of sync with my schedule, half a day ahead, so I don't really know where to aim for. There are camping spots marked on my map but mobile internet isn't proving up to the task of finding anything out about them, like whether they still exist. There's no clear route either, and I can see a lot of arrows marking steep roads. I'm going to just ride and see where I get too, may not be that far.