Forbidding forecast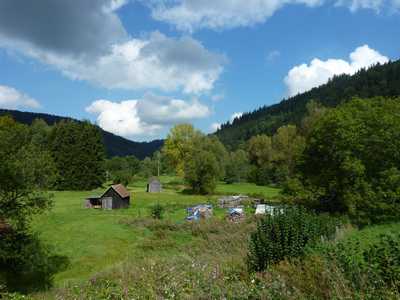 Tue 20th Sep 2011
Day 10
Start: Bad Herrenalb, Germany
End: Tubingen, Germany
Distance today: 95k
Distance so far: 1005k
A good day. The sun shone throughout and the forested scenery was a pleasure to travel through. A few stiff climbs at the start were hard work, but expected, and led to exhilarating speeds on the way back down.
The second climb of the day was purely to get off a busy road. Worth it I think, I don't like sharing limited space with fast moving trucks. One came very close to an accident because of me. He was actually being considerate, swinging out wide when passing. The car that appeared round the corner in the opposite direction probably didn't see it the same way, he had to come to a standstill to avoid a collision.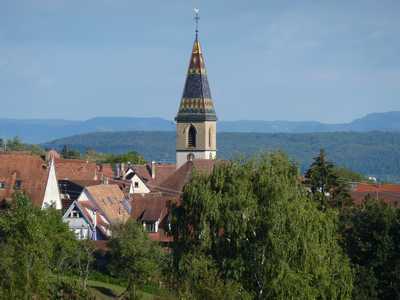 View of a village on the route.
Both start and end towns are pleasant. Knowing the distance wasn't too great I had a leisurely breakfast in Bad Herrenalb, a slow-paced spa town. I finished in Tubingen which is a gem that my short stroll round hasn't done justice to. It has a castle with excellent views across the surrounding forested plain. The streets are quiet and cobbled with small alleyways to explore. The buildings are uniformly attractive in a medieval style.
I'm currently sipping a merlot to go with my pasta in a high standard Italian. By typing away I hope they think I'm writing for a travel magazine, the food is excellent at any rate. My budgetary regime is a curious one, my spend on the evening meal probably surpasses everything else added together. It also represents the only variety in my diet. Breakfast is always pastries, lunch cheese and ham sandwiches, supplemented during the day with many chocolate bars and haribo sweets.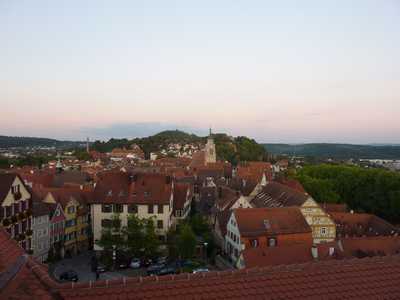 Tubingen from the castle.
I chatted briefly to a Dutch touring cyclist at the campsite. He was on his way to Rome. As with everyone I speak to, I told him I was on my way to Munich. He told me he was worried because there was already snow in Austria. The same Austria that I'm down to go through next. I'm only looking as far as Munich for now, will think things through there, but snow in Austria might figure in that analysis given I wanted to go home when the wind was a bit chilly on Sunday.
Tomorrow could be a bit tricky, it's quite long, a fiddle navigationally and may not be flat. Hope the merlot sends me to sleep.