On the carousel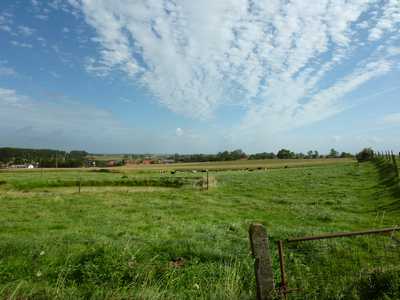 Tue 13th Sep 2011
Day 3
Start: Poperinge, Belgium
End: Tournai, Belgium
Distance today: 85k
Distance so far: 300k
A far more relaxed day. After sleeping extremely well in the hotel I set off for Tournai. It proved to be a pretty easy route with few gradients, there was still a bit of a breeze but it was largely behind me. Pleasant Flemish villages arrived with satisfying regularity, each with a disproportionately large church and elaborate graveyard. The roads were perfect for touring, quiet, well surfaced and shared with patient, considerate drivers.
I reached the French border, again without it being denoted, and soon after stopped to eat my sandwich opposite the cathedral in Armentieres. I chatted to a chap outside a bookshop trying to recruit passers-by to a discount book service. People literally broke into a run to avoid him, he failed to get anyone to so much as find out what he was selling while I was there.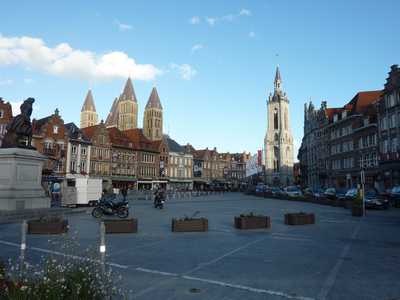 Tournai centre.
At the town of Seclin I thought I'd nip on to a more major road to avoid a small detour. The road was properly unpleasant with thundering trucks and not much space so I used my phone to find an alternative. The detour turned from a narrow road to a dirt track, and finally to badly maintained cobbles. I suspect the choice between direct but busy roads, and quiet but poor quality ones, will be something I will have to make again. The moral of the tale is to accept small detours. The rest of the journey was fine, returning across another unmarked border to Belgium, this time the French speaking part. It's odd that there's no announcement on the road when swapping country, more fanfare is made of going from Oxfordshire to Berkshire, I assume it's a deliberate indication of integration round these parts.
The small campsite is fine but operates curious reception opening hours, from 8.30 to 10 in the morning only. I could be gone by 8 after a free night's accommodation. British and German couples in their motorhomes seemed equally surprised, and for some reason seemed to think I would know what the form was.
Tournai is an historic town with a pleasant cobbled centre. There's a cathedral which is strangely hard to view with buildings shielding it from all angles. However the oddest thing is that the calm of the centre is shattered by a carousel, the sort with horses which only very small children or couples being ironic would ride on. They seem to have spent a bit of money recently improving the centre with an expensive looking water feature, when the simplest improvement would be to get rid of the fairground ride blaring out Teddy Bears' Picnic.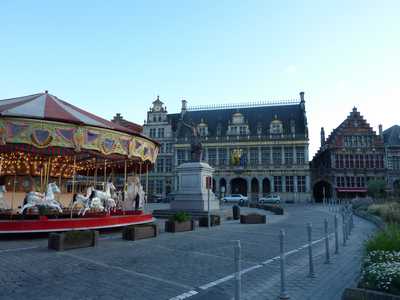 That flipping carousel.
I went native and had dinner in a Friterie, where everything came with chips. I then went for a Belgian beer in a cafe, somehow picking the one where everyone else was in their eighties, and they all seemed to leave as I arrived. In fact they started clearing away the chairs as I arrived and it was only 8 o'clock. Now retired to my tent for my first night under canvas.