The Kit
I don't imagine this is going to be of much general interest but other cycle tourers might want to know what I took with me. I'd not done any remotely comparable trip before so I thought quite a bit about what to take, in the main I think I made pretty good choices.
The Bike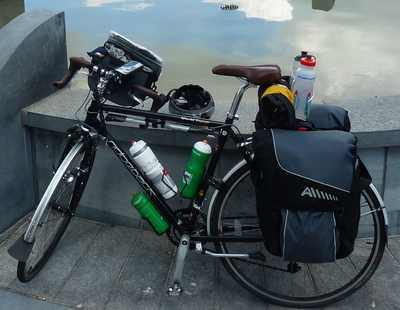 The bike was a Ridgeback World Voyage, bought specially for the trip for £720 from Evans. Obviously I didn't put it through as much of a test as expected but I didn't have any mechanical issues, remarkably not even a puncture.

I made a few modifications, most pretty trivial.

Cage pedals were swapped for SPDs and used Specialized Tahoe mountain bike shoes which worked pretty well, I didn't mind walking about in them off the bike.

Added a kickstand, just a cheap one you can get anywhere. Very glad I did, makes stopping much easier, though getting the fully loaded bike balanced wasn't that easy.

I went a bit to town on water bottle cages. I mounted two behind the saddle, one on the seat tube and one either side of the down tube. As it was never that hot this was excessive, I never filled the one underneath the down tube. However I did like having all the fluid I needed for the day with me, so I didn't need to waste time trying to find a village shop and then further time locking the bike up and so forth. The bottle cages behind the saddle reduced the size of anything I could strap to the pannier rack but this didn't cause a problem. I actually found these bottle cages helpful for mounting cycling shorts to dry out.
Mobile Phone
The most significant change I made was adding a dynamo to charge up my mobile phone. This was a great idea and it basically worked pretty well.

Smart phones can be frustrating but they are also very useful indeed on a trip like this, mine is an HTC Legend. Aside from staying in touch back home via email, the most useful function is the GPS which I used a lot, particularly in towns, to check where I was and where I should be going. You can also use an app to record where you've been. You can surf the web, though not always that easily, which I used to find out accommodation details on route. You can write a blog, read books and listen to music. You can even make phone calls.

The problem with all this is the battery life. Mine would only survive a single day while performing the functions mentioned above, and if you're staying in a campsite you don't have easy access to a socket to charge it. Without an alternative means of charging you evening just becomes a mission to find somewhere with a socket that you can stay long enough to get it fully charged.

To address this issue I bought the SpinPOWER S1 dynamo charger from Bike2Power. This basically has three parts: a bottle dynamo, a charger unit and a phone holder, the last two being attached to each other. The phone holder, I'm afraid, is useless. It grips your phone just using plastic arms and on my test ride at home the phone fell out and for a while I thought I'd lost it, until I noticed it was still attached to the USB charging cable and just dangling off the bike. The holder also doesn't fit my handlebars very well even though I don't think they are particularly wide.

So I then bought this holder, actually designed for motorbikes, which was a good fit, was secure and also had a water-resistant case. You could also clip it to a strap so that if it did fall out it would remain attached to bike, but this never happened. It worked very well, I could use the phone through the case, the only difficulty being access the activation button at the top of the phone was a bit tricky. With two zips on the case I could close it up and still leave space for the charging lead. I didn't trust the case to be completely waterproof so in heavy rain I would put the phone in my handlebar bag.

I detached the charging unit from the original holder (presumably invalidating the guarantee) and made a custom strap out of an old inner tube, superglue and some velcro. So the dynamo was connected to this, which I strapped to the stem, then when charging this plugged into the mounted phone.

This solution worked very well. The dynamo charges pretty much as quickly as the mains and you don't need to be going fast for it to work. It does add a bit of drag and make a noise, I just got used to this. It also slipped when the tyre was wet, which it always was in the morning. To some degree these issues can combated by using a hub dynamo, something I noticed was very popular on the continent. I may do this, though it is more expensive and requires rebuilding your front hub. If I do go down this path then the only item I'll be using from Bike2Power will be the charging unit, which is some very unsophisticated electronics to regulate the voltage and current to what a USB device expects. I think the best way to go about this exercise would be to buy your own dynamo and phone holder then put the regulator together yourself from a kit or the raw components, can't be hard. I might look at it further at some point.

Anyway the upshot was that I always had a charged phone during the day and at the end of the cycle. I also brought a spare external battery pack that can hold deliver a couple of charges to a phone, but I never used it. This would have been useful had I stayed in one place for a bit longer without access to mains.

I didn't use any special mapping apps, just google maps. I did pre-cache some areas early on but got away with it even if I didn't. Some days I used the endomondo app to track where I'd gone. I signed up to a Vodafone package for £10 a month that gave 25MB a day which was fine. I loaded an Albanian phrasebook application with a military origin that has such useful phrases as "stop or I will shoot" and "lie on your stomach".
Inventory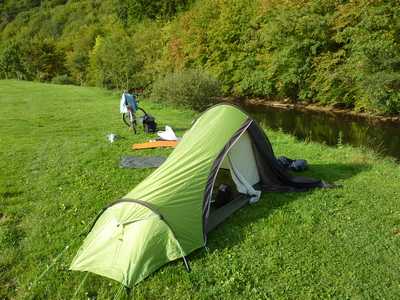 I packed everything in two rear panniers and a handlebar bag. This was a deliberate attempt to reduce the number of bags to worry about when getting off the bike. Many touring cyclists also have front panniers and might put part of the tent on the pannier rack. I wanted to leave the rack free for any additional items like food. In the end I tended to just stuff food in my cycling jersey and used the pannier rack to strap drying clothes.

On the bike.
Two Altura Dryline 56 panniers. I owned these before and they worked fine, kept everything waterproof. I did wonder how robust they would have proven to be had the trip extended further, the positioning points at the top did come a bit loose on occasion and I think the plastic backing that sits next to the pannier rack was starting to show signs of wear. I designated one pannier for camping gear, in which I could put damp stuff, and the other for clothes which I kept dry.
Altura Dryline bar bag. This was brilliant. Large enough to take stuff you want to access readily from the bike and want to keep an eye on, like passport, money, shades, maps, some food. Very easy to take off and carry with you when you leave the bike, and the map holder that sits on top was invaluable.
Gortex top. I found I could roll this up and clip it to the bottle holders I'd added behind the saddle, very useful as I had immediate access to it if rained.
Blackburn frame bike pump. Wanted to take this rather than a smaller one that would fit in the panniers because it's so much better.
Clothes, all in the clothes pannier.
3x cycle shirts
3x cycle shorts
3x socks
3x very light cotton T-shirts
3x boxers
Racing flats. Lightweight trainers, a bit bulky but very light, might look for something more compact next time but they worked pretty well and could have used them to go running though I never did. Don't like sandles so just used these round campsites.
Zip-off trousers
Lightweight knee length shorts, allowed these to get wet and dirty, keeping the zip-off trousers clean and dry.
Belt
North Face Summit series jacket with synthetic filling. The most extravagant purchase for the trip, this wasn't cheap. However it is very warm and packs pretty small into one of its pockets. Wore it a lot in the morning and evening.
Fleece sweater
Glasses
Shades
Cycling gloves
Cap
Lycra leggings
Running shorts
Waterproof socks
Helly Hansen long-sleave base layer
Warmer gloves
Warm hat
Buff
Bike tools, in the camping pannier.
Spanners
Pedal spanner
Multitool
Spoke wrench
Chain tool. Was glad of this, it was easiest just to take the chain off for the journey home after the accident as I was struggling to get it back on.
Fork spacer. Free from a bike shop, meant for the flight home after the front wheel has been removed. Tip, make sure it fits your bike before you leave, this one didn't so the forks weren't re-enforced on the flight, fortunately not a problem.
Tape
Cable ties
Rubber bands
Velco
Super glue
Puncture repair
2 inner tubes
Tyre levers
Chain lube
Rag
Old toothbrush
Security, in the clothes pannier. In general security was much less of an issue than I was expecting. When stopping in a village to get some food I generally didn't even bother locking it. A fully loaded touring bike is not the sort to just jump on and ride away. Camping, in the camping pannier, obviously.
Tent. A Colman Avior x2. Bought for the trip and was pleased with it. Far from the lightest out there, it's just under 2.5kg, but cheap and I thought it was very practical. Packs down small enough to fit in my pannier which was a big bonus. The outer is self-supporting so I generally packed the inner separately and made sure I kept the inner chamber dry, had to be careful as there was always a lot of condensation in the morning, though the tent let none of it in.
Sleeping bag, had this dry-cleaned just before leaving, a great move.
Bag liner
Therm-a-rest mattress
Therm-a-rest seat. Wondered whether to take this as it's not so easy to pack in the pannier but glad I did, nice for sitting outside the tent at the end of a hard day's ride.
Gas stove
Gas. Actually ran out after a couple of days and didn't find any to replace it but I didn't look too hard as I wasn't relying on it.
Saucepan
Spork
Mug
Toilet paper
Bungees
Towel
Lighter
Pen-knife
Head torch
Jay cloth
Tea
Coffee
Emergency dried food
Poly bags
Bike cover. I brought a very cheap plastic cover for the bike, it was pretty light but a bit bulky, taking room up at the bottom of the pannier. The purpose was to keep the bike dry at night, make it attract less attention at a campsite from a security perspective and use it to wrap up the bike for the flight home. Only the last of these was really necessary. I think I got a bit lucky on the flight, they let me use it to pack the bike but it wastn't really up to the job, it had all but come off by the time it arrived at Gatwick and was in shreads. I thought it might come in handy as an extra groundsheet in the evenings, but it invariably got wet and was hard to dry out. I probably wouldn't take it again but I'd need another way of getting the bike home.
Electronics, in the bar bag or camping pannier.
Phone
Camera
Camera battery
SD card
Camera charger
Continental adaptor
Phone charger
Barclays PINsentry
Exteral battery
USB leads
Headphones
Watch
Spare batteries
Toiletries, in clothes pannier.
Contact lenses
Toothbrush
Toothpaste
Sun cream
Razor
Mosturiser
Chamois
Shave gel
Shower gel
Hand wash
First aid
Money and admin, in bar bag.
Passport
Wallet
Maps
Phrasebook
Travel cheques
Insurance details, didn't make it with me to the hospital at first, would have saved time had it done so.