Luxembourg in a day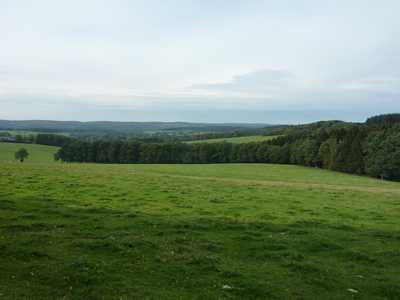 Fri 16th Sep 2011
Day 6
Start: Houyet, Belgium
End: Vianden, Luxembourg
Distance today: 135k
Distance so far: 595k
Today I suffered. Made it to Vianden. Very hard work and I'm shattered.
Having previously indicated how an early start was vital, today I was slower than ever to get going. Partly due to a bit of a natter with my Dutch neighbours on the way to Spain in their motorhome. They used the same mode of transport to go to London for new year and now have a £1000 fine hanging over them for entering the low emission zone. There was also a great deal of condensation on the tent which I've yet to work out how to deal with, though the tent does a great job of keeping it away from me during the night. After first stirring at 7.15 I didn't really get going until gone 9.30, so I was chasing the day from the off.
I passed through Rochefort (nothing to do with the cheese) and St Hubert, both of which looked like they merited further inspection. Will have to think about this a bit, I won't be getting so much out of the trip if I can't stop to see things.
Between these towns was the first real climb I've faced, getting on for 10k of solid ascent. My legs didn't take too kindly and tightened up badly. The scenery was fine though, this was the Ardennes forest at its best.
It then reverted to fairly non-descript farmland until the border with Luxembourg, but there were still continuous quite severe undulations that slowed progress and sapped my strength.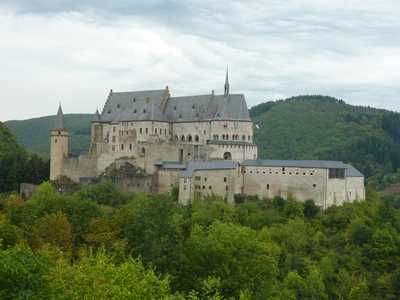 View of the castle from the descent into the town.
On crossing the border the scenery again became forested and I was launched down an exhilarating three mile descent. For a while it appeared all roads in Luxembourg were well surfaced, clearly signposted and downhill. The stretch of road between Wiltz and Kautenbach must be the nicest for cycling I've ever been on, flat through a shade of trees with beautiful views, on a pristine surface and almost no traffic.
Then it started to climb. It was uninterrupted for four miles and again my legs tightened up. Hoping for the reward of a long descent I was disappointed. Instead it undulated significantly into a stiff breeze for several miles more. Really starting to struggle, I was overwhelmed with relief when I finally got to a sign showing two miles downhill at 10%. In no time I was at another sign: Vainden 1k, Deutschland 1k. Luxembourg crossed in an afternoon.
Vainden is dominated by a Disney style castle, beneath which cafes line cobbled streets. Despite this I'm not actually that keen. It feels like an artificial tourist town, and is dominated by large groups of motorbikers for whom the place appears to be some sort of centre of pilgrimage. The campsite I'm at is pretty rubbish too, close to a busy road and little else going for it. I was going to reward myself with a day off tomorrow but instead I plan a short hop to Trier.